What is Cardiac Arrest?
A cardiac arrest is a life-threatening medical emergency where the heart stops beating. Individuals experiencing a cardiac arrest lose blood flow to the brain and become unconscious. Without treatments such as cardiopulmonary resuscitation (CPR) and an electric shock to restore the heartbeat (called defibrillation), death can begin in 4-6 minutes. Unfortunately, it can take paramedics longer than this to arrive on the scene and begin treatment.
People who witness a cardiac arrest can help to save a life by calling 9-1-1, beginning CPR and using a public access defibrillator. Unfortunately, CPR and public access defibrillator use by bystanders does not happen in the majority of cardiac arrest emergencies. It is estimated that 85-95% of cardiac arrest victims die before reaching a hospital or in the hospital. We think that we can improve survival rates if we can increase the number of victims who receive bystander CPR and AED use. 

The PulsePoint mobile phone application is an innovative solution that crowd-sources community bystanders to respond to nearby cardiac arrest emergencies. The PulsePoint app works with existing 9-1-1 technology and the purpose is to minimize the time between sudden cardiac arrest events and the start of CPR. When PulsePoint is implemented in a local 9-1-1 dispatch centre, community members who are trained in CPR are asked to download the free "PulsePoint Respond" mobile device application. By downloading the app, these PulsePoint community responders agree to perform CPR and deliver an electric shock when notified by the app. The app is activated while paramedics are on their way.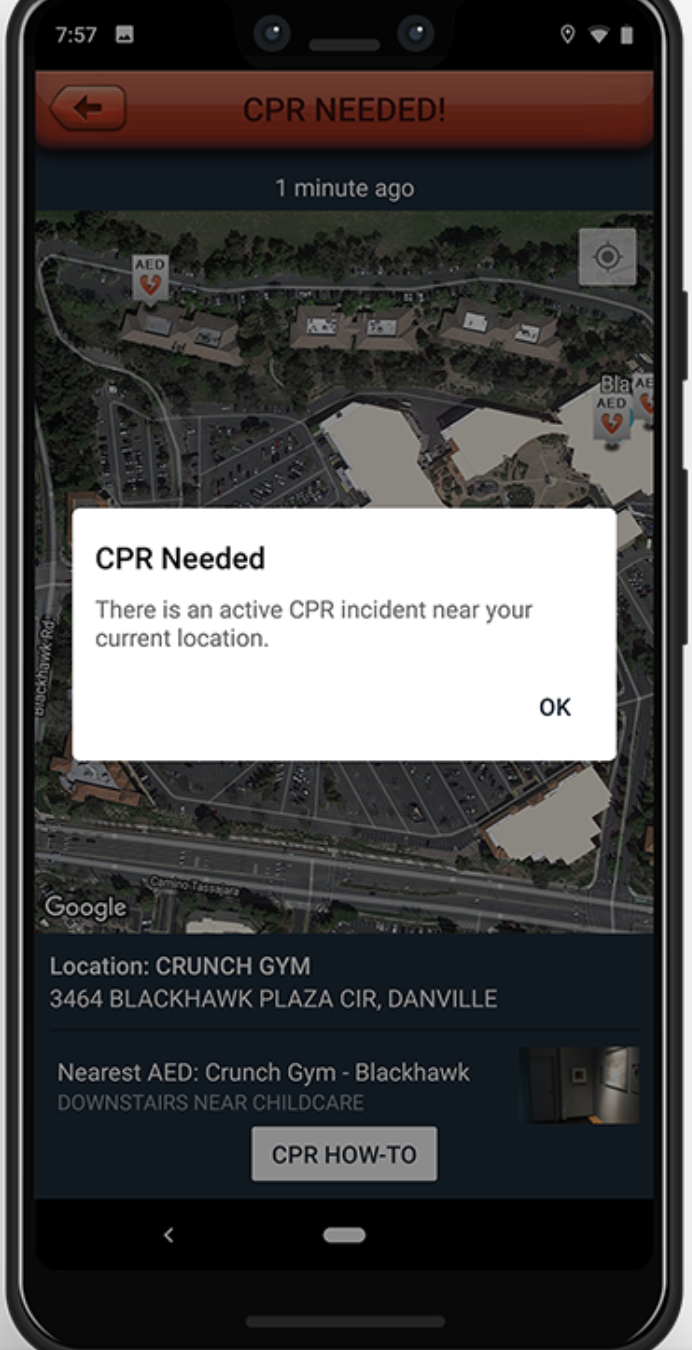 What is the purpose of the study?
The effectiveness of the PulsePoint app has not been proven. A clinical trial is required to evaluate whether it can save lives. Principal Investigators Dr. Steven Brooks from Queen's University and Dr. John Tallon from British Columbia Emergency Health Services and their team of collaborators from The Ohio State University, the University of British Columbia, the University of Manitoba, and the University of Toronto are launching a randomized clinical trial to test the effectiveness of the PulsePoint mobile phone application. This team of experienced researchers are working alongside their colleagues in the emergency services agencies of their respective communities.
This study will evaluate the PulsePoint app and determine whether its implementation results in increased bystander CPR and AED use and improves health outcomes for the victims.  This study is in the process of being approved by research ethics authorities in each participating institution.
Normally, people being considered for entry into a clinical trial are told about the study and then asked for their signed, informed consent before being enrolled. Our trial, like many clinical trials involving unconscious patients with time-sensitive emergency conditions, will not involve informed consent prior to enrolling patients in the study. Unfortunately, patients will be unable to provide consent because they will all be unconscious. Sometimes in this type of emergency research, we can seek consent from family members or others when the patient's themselves cannot. Unfortunately, there is no opportunity to seek consent from other legally authorized individuals before we enroll patients in this study because PulsePoint needs to be activated at the time of the 9-1-1 call before the patient can be identified or contacted directly by paramedics. The intervention is so time-critical (seconds count!) that there is no time to get consent from family members. This process of including patients in emergency research involving life-threatening, time-critical conditions, is called "waiver of consent". We have requested approval from the research ethics authorities in all participating communities to use this process of waiver of consent so that this important research can be done. Without waiver of consent, this research is impossible and we will be unable to answer the important questions that we have about whether PulsePoint is effective, whether we should continue with PulsePoint in our communities and whether we should recommend it for other communities in North America and around the world.

How will this study work?
This study is planned to launch in Columbus Ohio, the Province of British Columbia and Winnipeg Manitoba. For the projected two-year duration of the trial, all 9-1-1 calls for people believed to be suffering from cardiac arrest in a public location will be randomly assigned to one of two groups:

Group 1. CONVENTIONAL DISPATCH 
 9-1-1 calls randomized to the conventional dispatch group will receive standard rapid dispatch of Emergency Medical Services in the same way as it occurred prior to the study. This involves immediate dispatch of paramedics and fire fighters to the scene of the emergency, as well as having the 9-1-1 dispatcher offer CPR instructions to the caller.
Group 2. CONVENTIONAL DISPATCH + PULSEPOINT
9-1-1 calls randomized to the conventional dispatch + PulsePoint group will receive standard rapid dispatch of Emergency Medical Services in the same way as it occurred prior to the study. This involves immediate dispatch of paramedics and fire fighters to the scene of the emergency, as well as having the 9-1-1 dispatcher offer CPR instructions to the caller. In addition, calls randomized to this group will also receive activation of the PulsePoint system. Activation of the PulsePoint system will result in mobile devices within 400 meters of the emergency location being sent a "CPR needed" notification, a map indicating the location of the cardiac arrest and any nearby public access defibrillators.  
Only 9-1-1 calls about patients in public settings will be included in the study. 9-1-1 calls about patients suspected of having cardiac arrest in private locations (e.g. residential addresses) will NOT be enrolled in this study.
All patients enrolled in the study, regardless of being randomized to Group 1 (no PulsePoint) or Group 2 (PulsePoint), will have the opportunity for witnesses of the emergency to provide CPR or public access defibrillator use independent of the PulsePoint mechanism.
Researchers will collect anonymous information about the care received by patients during their pre-hospital care, as well as whether or not they survive. At no time will direct personal identifiers such as name, birth date, home address, or health card number be collected or analyzed by researchers during this study.

What are the potential risks associated with this study?
The investigators and collaborators feel that this study is very safe and any risks associated with the study are minimal. The potential, but very unlikely risks associated with PulsePoint include violation of patient privacy, harmful behaviour by PulsePoint responders (e.g. theft, assault), and obstruction of the professional response. Since its launch in 2011, there have been no reports of direct harm to patients, privacy violations or responder injuries associated with the application. There have been no reports of overcrowding at the scene of an emergency which could prevent professional responders from helping the patient. 

What are the potential benefits associated with this study?
This clinical trial does have the potential benefit of saving lives. PulsePoint might increase the number of cardiac arrest victims who receive bystander CPR and the use of a public access defibrillator in participating communities. If the study demonstrates benefit with PulsePoint, the results of this study could help guide policy for community leaders both in the participating jurisdictions as well as other communities across North America and potentially save lives in other communities.

How can I help?
Be a Leader!
Be a leader in your community by learning CPR and signing up to be a PulsePoint responder by downloading the app!
https://www.pulsepoint.org/download/ 
We are also interested in receiving community feedback to help us plan this research study. Please assist us by participating in this online survey to share your thoughts about PulsePoint and specifically about the way we are planning to enrol patients in this planned emergency research with waiver of consent study.

Where can I learn more about this study?
To learn more about this study or to sign up to receive a summary of the study results please contact us:

Dr. Steven C. Brooks, PulsePoint RCT Co-Principal Investigator
Lindsay O'Donnell, PulsePoint RCT Coordinator
Study email address: pulsepointstudy@queensu.ca
Office Telephone: 613-549-6666 x6879
Kingston General Hospital Toll Free Telephone Number: 1-800-567-5722 

More information will be available at www.clinicaltrials.gov when the study launches
The PulsePoint Randomized Control Trial is generously supported by the Canadian Institutes of Health Research (CIHR).